Guy: Do you know who the first Doctor was?

The way he says it sounds like the setup for a joke, so I say

Me: No?
Guy: I do.

(Ohh, I get it, he's testing me.)

Me: William Hartnell.
Guy: What?
Me: The first Doctor was William Hartnell.
Guy: ...he was before Baker?
Me: Yes. Tom Baker was Four.
Guy: That was before you were born. I watched Baker in high school.
Me: ...um, ok.
Guy: It was before you were born!

He walks off, grumbling to himself. Dude, two things.

#1:If you're going to challenge someone on their nerd cred based on age, don't pick the person who is wearing a Doctor Who shirt in public. (Especially not a t-shirt implying that their memory of the Doctors might be pretty good).

And #2: Try having a clue what you're talking about. C'mon, that's a rookie mistake.

Love, seagullsong
So I'm sitting at the library, working on my laptop, and this guy comes by me and engages me in conversation. (For context, I'm wearing a t-shirt that says "You never forget your first Doctor" with a picture of the TARDIS.)
Current Mood:

amused


You are a book on language. Specifically, a popular history of the English language, but still, linguistics. Why, then, would you feel the need to repeat the claim that "Eskimos have 50 words for snow"?

I mean, for one thing, "Eskimo" covers...two languages and several dialects of Inuit, I think? It's a language family referring to several separate groups of people. It's not like the entire arctic circle is culturally homogeneous, come on.

And even if that wasn't true, that claim is just fundamentally wrong. You can create tons of different descriptive words for snow in the Inuit language, sure, but you can create descriptive words for just about anything by sticking other words together. It's like claiming that because we can refer to "a large ear of corn with those fluffy things coming out of it at the end," "corn on the cob," and "sweet yellow corn," English is a language of corn-obsessed lunatics. The only difference is that in Inuit they can stick the adjectives and nouns together to make one long word.

To put it another way, if you were making an Inuit dictionary you would put in the words for "snow", "wet", and "fluffy", but not a word for "wet, fluffy snow", despite the fact that that word can probably be created. It's called a polysynthetic language. The guy who started the urban legend didn't understand that.

And sure, the peoples we call Eskimos probably spend more time talking about snow that people in more temperate climates, but that's not nearly as interesting as saying that they have fifty different words for it. After all, we'll go on and on about the beauty of trees, because we've seen a lot of fucking trees and can appreciate the subtle differences. But we don't have specific words for every possible type of tree. It's the same thing with Eskimos and snow.

"Does the idea that one afternoon on Wiki-fucking-pedia might enlighten you, frighten you?" -Tim Minchin

http://en.wikipedia.org/wiki/Eskimo_words_for_snow


Dear book that I am currently reading,
Louis Hale, on opednews.com, writes:
"In March of 2009, Glenn Beck described himself to a New York Times interviewer as a "rodeo clown." To my mind, this was a Freudian slip on Beck's part which encapsulates with pinpoint accuracy the function, within the larger scheme, of this radio host/provocateur for the Rupert Murdoch-owned Fox Network.
A rodeo clown's job is to distract. Once the cowboy--who spurs the bull as he rides--is bucked off, the clown--engaging in various antics, including waving red flags--must distract the bull from the cowboy in order to prevent the bull--enraged not only by the being with spurs recently having perched atop its back but also by the strap tightly attached around its flanks--from attacking the cowboy.
Glenn Beck does his job well. He distracts his listeners from seeking solutions that would advance their real interests by waving the red flags of racism and religious bigotry in place of constructive discussion of the real issues, waving the red flag of head-fake patriotism instead of encouraging critical thinking and looking past surface appearances, and waving the red flag of self-destructive military-enforced imperialism disguised as "support for our troops" who are providing for our "national security" against a manufactured "terrorist threat." "


He goes on to talk a lot about bankers, but...you get the idea.

I'll be attending the Rally to Restore Sanity in Washington at the end of the month. The world needs a few less rodeo clowns and a few more court jesters.
So I had this complicated explanation of why Glenn Beck calling himself a rodeo clown was way, way more accurate than us liberal types really know (because, let's be honest, how many of us have ever set foot at a rodeo?) , but I did some Googling and it turns out that someone beat me to it.
Based on the books on your bookshelf, what conclusions would people draw about you?

First question listed was submitted by
bouhaki. (Follow-up questions, if any, may have been added by LiveJournal.)
Probably that I'm an insane conspiracy theorist. I...I have a thing for collecting books about ridiculous bullshit. Elvis being alive, magic devices that bring you true love, whatever. I have a special shelf for them. :D
Is this an incredibly naive fail, or was the author simply trying to win an award for best "..in your pants!" title joke?
(
Moar (and better) photos...
Collapse
)
You guys might not know this, but hanging out in thrift stores is one of my Favorite Things Ever. (Which is why it's awesome that I got a job at Value Village recently. Woohoo, summer jobs!) Between the job and the hobby, I spend so much time in ridiculous little stores that I ended up deciding to take my camera with me so that I could document amazing finds instead of having to buy them. So now I have a small collection of WTF book covers to share with you. Maybe I'm the only one to find these funny, but whatever, they entertain me. :D
stop doing that one thing
, but that you're willing to forgive because they're usually so awesome? It can be anything from incredibly bad puns to racism, I just want to hear about the stuff that makes you wince juuuust enough to be uncomfortable, but not enough to make you stop watching. Share your shame!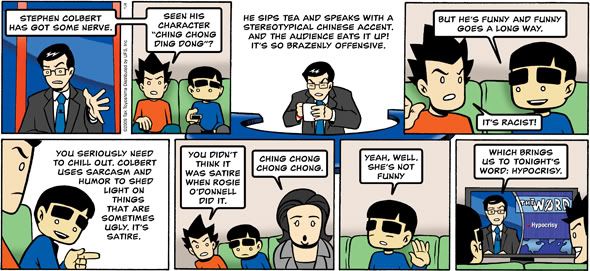 Ok, kiddos. Discussion time! Got any favorite shows that you wish would just


2) Ask your flist to post questions in the comments. For example: 'One, nine and fifteen are chosen by a prophecy to save the world from four. Do they succeed?', 'Under what circumstances might five and fourteen fall in love?', 'Which character on the list would you most want on your side in a zombie invasion?'

3) After your flist has asked enough questions, round them up and answer them using the fifteen characters you selected beforehand, then post them.

Go, my minions!
1) Make a list of fifteen (fandom) characters first, and keep it to yourself for the moment.
Poll #1547379
Open to:
All
, detailed results viewable to:
None
, participants: 19
What is the nature of private property?
Is stealing ever justified?
If you answered yes or maybe to #2, is stealing justified if you need to feed yourself or your family?
If the ruler or ruling class of the land is hoarding wealth to the detriment of the people, is it acceptable to steal from/overthrow them?
Do rich people have an obligation to the poor, even if they have not caused the poor's suffering?
Which of these statements do you most agree with?
Communism is
Should humans be able to own animals?

Good day to all 11 or so of you on my flist! I'm a member of (ok, I watch and comment on) this kickass community called ontd_startrek, and tonight at 8pm EST, they're holding an ultimate party post. What makes this post so awesomely ultimate is that if they get 10,000 comments on the post, LJ user starlady42 will donate $500 to the community collection fund that is going to help victims of the earthquake in Haiti. If they don't get that many comments, she'll still contribute 5 cents for each comment recieved.

THAT'S RIGHT, GUYS, ALL YOU HAVE TO DO IS SPAM A RANDOM COMMUNITY WITH MACROS AND SHIT AND YOU WILL HELP SAVE LIVES. That's the most awesome thing I've heard all day!
Here's a link to the info post.
(Expect lots of sparkles and CAPSLOCK because those guys are GQMFs and hyper as puppies on caffeine.)
So if you're not busy tonight (or even if you are, come on it's easy) stop over there and give them some comment love!
LJ IS GOING TO PWN SOME POVERTY, YOU GUYS.
ROCK ON.
Current Mood:

hopeful